Over the festive period, Steph have been doing research into garments and drafted some new designs considering many factors, like sensor and tooling positions. She then got inspired by her very comfortable hooded jacket and thought the places with least movement is the best place to store the on-board computers and tools, and we have the birth of "Guardian Shell" (code name) - a shell where you can be guided, look after-ed and have some back up (tools and supplies).

Best of all, it's going to be a plug-in for the suit, customisable and easy to add as an extra layer.
Powered by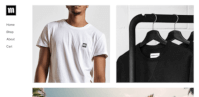 Create your own unique website with customizable templates.