Everyone gained some kind of sewing skill after the summer... We have been stretching out conductive bands, trying out many ways to get the conductive ink to behave, testing it pressure sensitive materials and working out the best combination of conductive/insulating material to use.




We have been testing out conductive ink and find that they are rather unpredictable, the resistance of an area of conductive ink seems to be... temperamental. We've tried to print via a mesh to create an even spread (Steph's screen printing skills comes handy). If you have any tips or wanted to use us to beta test your ink, please let us know!
Powered by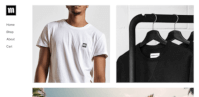 Create your own unique website with customizable templates.